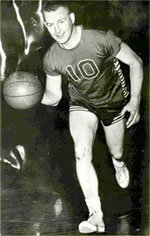 Norman Henry Baker (born February 17, 1923 in Victoria, British Columbia, Canada)
Voted Canada's top basketball player of the half century 1900-50, Norm "The Swede" Baker was once described by former Harlem Globetrotter founder and manager, the late Abe Saperstein, as "one of the greatest natural basketball players I have ever seen."
High praise indeed for Baker, who picked up a basketball at age 10 playing for the Nanaimo Mosquitoes.
Six years later he would become the youngest player to be part of a Canadian Senior National basketball Championship team when the Victoria Dominoes dribbled their way to the title in 1939.
Two more national titles under the Dominoes banner would come his way in 1942 and 1946.
In addition he was part of the 1943 national champion Patricia Bay Royal Canadian Air Force Club Gremlins, scoring a then record 38 points in one game against Windsor Patricks.
Baker turned professional in 1946 but played only four games for the Chicago Stags of the Basketball Association of America B.A.A. forerunner of the present-day National Basketball Association.
While with the Stags he wore jersey No. 16.
Records show that he only took one shot during this brief cup of coffee.
It was a different matter though in the Pacific Coast Professional Basketball League (PCPBL 1946-48) where the 6-foot-2 guard was one the leading scorer while wearing the colours of the Vancouver Hornets.
He was second in league scoring in 1946-47 as Gale Bishop of the Bellingham Fircrests scored 771 (19.9 ppg) to Baker's 694 (18.8) points
Team members that year were George (Porky) Andrews doing double-duty as player/coach along with Arthur Chapman, Reg Clarkson, Ken lawn, Ritchie Nicol, Doug Peden and Sykes...first name unknown.
The team was a high-scoring one as they set a PCPBL record for most points in a game during the 1947-48 season, dropping 97 against Astoria Royal Chinooks on December 27, 1947.
The Hornets finished near the top both seasons with records of 24-14 in the regular season and 6-6 in the playoffs (1946-47) along with 29-23 for the regular season in (1947-48)
His Hornets teammates for the 1947-48 campaign were Andrews, Chapman, Lawn, Nicol, Bill (Stretch) Osterhaus, Peden, Dave Teyema, Jack Vaughn and Dean White.
Baker led the PCPBL in scoring with a 22.6 points per game average
In 1946-47 he was one of two Canadians, along with Hornets ' teammate and Andrews, to play in the World Professional Basketball Tournament (WPBT) with the Portland Indians.
The Indians lost their only game played 62-48 to the Sheboygan Redskins.
Indianapolis Kautskys would win the championship led by Arnie Risen (future four-time NBA all star).
The WBBT was sponsored by the Chicago Herald-American newspaper and featured professional teams from the various professional leagues at the time.
In 1950 Baker was the only non-American on a team billed as "The Stars of the World," on a 13-nation tour of Europe and Africa.
Baker also played two years for the New York Celtics and Boston Whirlwinds, the traveling opponent of the Harlem Globetrotters which featured the likes of the original clown prince Reece "Goose" Tatum who is also credited with inventing the hook shot.
The Globetrotters were installed into the Naismith Memorial Basketball Hall of Fame as a team September 27, 2002.
Following his basketball career Baker worked as a police officer, and coached basketball and lacrosse in Saanich.
-Inducted into BC Sports Hall of Fame in 1966
-Inducted into Canadian Sports Hall of Fame in 1978
-Inducted into Canadian Basketball Hall of Fame in 1979
Hank Biasatti A name unknown to most Canadian sports fans. Yet…Biasatti has the rare distinction to have been the only Canadian to date to play at the major league level in basketball and baseball (Philadelphia Athletics 1949). Had a sip of coffee with the Toronto Huskies (1946-47 B.A.A.) - along with fellow Canuck Gino Sovran. Perhaps most memorable hoops moment for Biasatti was in 1945 when his college team – Assumption – earned a 49-45 decision over the one and only Harlem Globetrotters. Drafted by: Boston Celtics, 1947 BAA Draft.
Ronald Joseph Oscar Camille Crevier (born April 14, 1958 in Montreal, Quebec) is a former National Basketball Association player. He played his college basketball at Boston College. And was drafted by the Chicago Bulls in the 4th round in the 1983 draft. However, he did not play in the NBA until 1986 when he played a total of 3 games totalling four minutes. Pro highlight was his third place ranking in the blocked shots category, 1.6 per game, while playing for the 1986 United States Basketball League's (U.S.B.L.) Springfield Flame. Also played with Jim Zoet on the 1983 edition of the Toronto Tornadoes of the Continental Basketball Association (C.B.A.) Drafted by: Chicago, 1983 NBA Draft, 75th pick overall
Bobby Croft
It was 35 years ago that Boston Celtics legendary coach and GM Red Auerbach stated that Canadian Bobby Croft "was the top pro prospect in the country (USA)." Big words for a big fella who ended up being drafted by two professional leagues...the NBA and American Basketball Association (A.B.A.) Croft played only one campaign in the ABA but gets the nod to this list due to the fact that the red, white and blue basketball league was on par with the NBA in talent.
Drafted by: Boston Celtics, 1970 NBA, 123rd pick Texas Chaparrals, 1970 ABA, 2nd round
Samuel Davis Dalembert (born May 10, 1981) is a professional basketball player who plays center with the NBA's Philadelphia 76ers. "Sammy" as he is commonly referred to as, was born in Port-au-Prince, Haiti. He started playing hoops in Montreal and played his college ball at Seton Hall University.
Samuel Dalembert is currently the starting center for the Philadelphia 76ers. He is a consistent double-double achiever and averages 3 blocks per game - ranking him one of the leagues elite shot blockers.
He missed the entire 2003-2004 season due to injuries.
He is constantly described as a rebounder and blocker, averaging over 11 rebounds and 3 blocks before being plagued with injuries that lowered his blocking and rebounding stats. He and Steven Hunter are often referred as to the "Twin Tower Effect" when playing together.
It is also worth noting that Dalembert is a clutch free throw shooter — despite his low season free throw percentage — as demonstrated in the January 13th game against the Boston Celtics when he hit all eight attempts in the Sixers' 125-124 win.
Samuel is now a Canadian citizen and Montrealer, and intends to play for Canada in the 2008 Summer Olympics.
Ulrich Alexander (Rick) Fox (born July 24, 1969 in Toronto, Canada) is an actor and former professional basketball player.
Fox's family moved to their native Bahamas when Fox was two. He attended Queen's College, Nassau and was a member of the high school's basketball team, "The QC Comets." He then also played high school basketball in Warsaw, Indiana before starring collegiately at the University of North Carolina where his highlights included upsetting number one Oklahoma in the second round of the 1990 NCAA Tournament with a short bank shot at the buzzer, and leading the Tar Heels to the 1991 NCAA Final Four. Fox began his pro-basketball career when he was selected by the Boston Celtics in the first round (24th pick overall) of the 1991 NBA Draft.
Fox played for thirteen seasons in the NBA (from 1991–1997 with the Boston Celtics and from 1997–2004 with the Los Angeles Lakers). He retired prior to the 2004-05 season after being traded to the Celtics, along with Gary Payton. The Lakers won three NBA championships during his tenure with them.
Fox was formerly married to actress and former Miss America Vanessa Williams. They divorced in 2004 after pictures were published in the National Enquirer showing Fox in a compromising position with another woman. His acting credits include playing prison inmate Jackson Vayhue on the HBO prison drama Oz. He has also appeared in a number of basketball themed films, namely Eddie, He Got Game, and Blue Chips.
Fox played internationally for Canada once, at the 1994 FIBA Basketball World Championship held in Toronto. His team was eliminated on the final possession of a game against Greece when he failed to get off a final shot.
Sports Illustrated once reported that he suffered from attention deficit disorder.
Stewart Francis Granger (born October 27, 1961, in Montréal, Québec, Canada) is a former National Basketball Association player and Canadian national team member. Though, in his early years he grew up in Montréal, his high school years were spent attending in playing basketball at Nazareth Regional High School in Brooklyn, New York. Granger made the New York State high school finals in 1979 playing for NYC-Nazareth, and in 1981 with Brookville-L.I. Lutheran, both along with fellow future NBA player Bill Wennington. Granger played college basketball at the Villanova University, where his career averages were 10.4 points per game and 4.8 assists per game.
In the 1983 NBA Draft, Granger was selected by the Cleveland Cavaliers at the 24th overall pick.
In 1984, his first season, he played with the team that drafted him, the Cleveland Cavaliers, an average 4.5 points per game and 2.4 assists per game. In his second season, he played for the Atlanta Hawks, where he averaged 1.8 points per game, and 1.3 assists per game. Then in his final NBA season, which was in 1987 with the New York Knicks, he averaged 3.3 points per game and 1.8 assists per game.
Granger aas also a first team USBL all-star in 1986 while a member of the Wildwood Aces.
Lars Hansen (born September 14, 1954 in Copenhagen, Denmark) is a former National Basketball Association player.
He grew up in Coquitlam, British Columbia, Canada, where he was a basketball star at Centennial Secondary School. He would go onto play his college basketball at the University of Washington. And after a successful career there he was selected in the 3rd round in the 1976 NBA Draft. Due to the ABA dispersal draft, Hansen saw his stock drop for the Chicago Bulls when they landed Artis Gilmore. In 1979, he made his NBA debut with the Seattle SuperSonics, and helped them win the [[NBA Championship]In 1981 Hansen was named Player of the Year and scoring champion of the FIBA First Division Spanish League. Drafted by: Chicago, 1976 NBA Draft, 37th pick overall & Los Angeles, 1977 NBA Draft.
Brian Heaney
Made the move north of the 49th parallel from Bishop Laughlin in Brooklyn, NY in the late 1960 to showcase his talents as a guard with the Acadian Axemen. Once scored 74 points in a single game (Acadia vs. Mount Allison, 1967-68) Star player in the Eastern Basketball Association.
Drafted by: Baltimore, 1969 NBA Draft, 215th pick
Robert J. "Bob" Houbregs (born March 12, 1932 in Vancouver, Canada) is a former professional basketball player. A 6'8", 225 pound forward/center, Houbregs attended the University of Washington from 1949 to 1953, where he was a consenus All-American selection as a senior. He was drafted by the NBA's Milwaukee Hawks with the 3rd overall pick in 1953 and played five seasons (1953-1958) in the NBA with four teams: the Hawks, the Baltimore Bullets, the Boston Celtics, and the Fort Wayne (later Detroit) Pistons. His career scoring average was 9.3 points per game, and he was elected to the Basketball Hall of Fame in 1987.
Todd Carlyle MacCulloch (born January 27, 1976 in Winnipeg, Manitoba, Canada) is a former professional basketball player in the NBA.
A Winnipeg, Manitoba native, the 7'0, 280 lb. MacCulloch played four seasons in the NBA before being forced to retire prematurely due to a rare foot ailment, Charcot-Marie-Tooth disease. In his first two seasons with the Philadelphia 76ers, MacCulloch played reserve center, averaging 9.4 minutes, 2.6 rebounds and just under 4 points in 56 and 63 games respectively from 1999 to 2001. In the 2001 off-season, he signed as a free agent with the New Jersey Nets and as their starting center averaged 9.7 points and 6.1 rebounds a contest. MacCulloch was then traded back to the 76ers for the 2002-2003 season, in which he averaged just under 20 minutes, 7.1 points, and 4.7 rebounds a contest. He went on the injured reserve list at mid-season, did not play the following season, and announced his retirement in September 2004.
MacCulloch played for the Canadian national team 93 times, most notably at the 2000 Sydney Olympics where the Canadians topped Yugoslavia to win their group only to lose to eventual silver medalist France in the quarterfinals and finish go on to seventh.
A graduate of Shaftesbury High School in Winnipeg, MacCulloch was in 1999 named Honorable Mention All-America as a senior at the University of Washington, when he averaged 18.7 points, 11.9 rebounds, and a .662 field goal percentage. He led the NCAA Division 1 in FGP in his final three years of college, only the second player ever to accomplish the feat. He was all-Pac Ten First Team selection in his final two years at Washington. He was drafted by the 76ers in the 2nd round of the 1999 NBA Draft.
MacCulloch currently works as a 76ers color commentator. He is married to wife Jana.
Jamaal Magloire (born May 21, 1978 in Toronto, Ontario, Canada) is a professional basketball player, currently playing for the Milwaukee Bucks of the National Basketball Association.
A 6'11", 259-pound (2.11 m, 117.5 kg) center, Magloire started 12 games as a sophomore for the Kentucky Wildcats team that won the national championship in 1998. He finished his college career as Kentucky's all-time leader in blocked shots, with 268.
He was drafted by the Charlotte Hornets with the 19th pick of the 2000 NBA Draft, but filled a reserve role for his first two seasons in which he averaged 6.5 points in 16.8 minutes per game. But in 2002-03, the Hornets' first year in New Orleans, he started all 82 games, averaging 10.3 points and 8.8 rebounds per game. He is nicknamed the Big Cat.
2003-04 was the season in which Magloire really began to get some respect from coaches and peers around the NBA. He averaged 13.6 points and 10.3 rebounds per game while starting all 82 games, and was even named to the Eastern Conference All-Star Team. Magloire being named an All-Star was perhaps a controversial decision at the time, with many pundits and sportswriters asking, "Who the heck is Jamaal Magloire?" But he more than held his own against the best the NBA had to offer, contributing 19 points and 8 rebounds in his 21 minutes of action.
On October 26, 2005, he was traded to the Milwaukee Bucks in exchange for Desmond Mason, a 2006 first-round draft pick and cash considerations
Leo R. Rautins (born 20 March 1960 in Toronto) is a former professional basketball player, the current head coach of the Canadian national men's basketball team, and an NBA analyst for the Toronto Raptors.
Rautins was a star in high school for St. Michael's College School in Toronto, the University of Minnesota for his freshman year of college, and Syracuse University for three seasons, the autumn of 1980 through to the spring of 1983. As a Golden Gopher, Rautins was named first-team All Big-Ten rookie, averaging 8.3 points, 4.1 rebounds, and 3.9 assists a game. As an Orangemen, he averaged 12.1 points, 5.0 assists, and 6.2 rebounds. He is the first player ever to record a triple-double in Big East play, accomplishing the feat twice in the span of a month during his senior year. He was named All Big East third team and Honorable Mention All American that year.
The 6'8, 215lbs. Rautins was the first Canadian ever drafted in the first round of the NBA Entry Draft going number 17 overall to the Philadelphia 76ers in the 1983 NBA Draft. He was a disappointment however as an NBA player. Hampered by knee problems, he played in 28 games as a rookie with the Sixers, averaging just 7 minutes a game, 1.5 points, 1 assist, 1.2 rebounds, and 0.7 turnovers. He went on to play 4 games for the Atlanta Hawks the following season, averaging a mere 3 minutes a contest before leaving the NBA to play in Europe. Rautins played 1985 through 1987 in Italy's LEGA A, 1989-90 and 1992 in France, and 1991-92 in Spain. At the time of his retirement, he had undergone a total of 14 knee operations.
Rautins is the youngest player ever to be on the roster the Canadian senior national team, becoming a member at age 16. He completed his national team playing career in 1992 as Canada was eliminated in the Tournament of the Americas, the Basketball qualifying tournament for the Barcelona Olympics.
Upon retirement, Rautins became a basketball commentator, most notably with the Toronto Raptors television network and ESPN. A member of Canada's Basketball Hall of Fame, he was named head coach of the Canadian National Team in February, 2005. Rautins' son Andy is currently a freshman on the Syracuse Orange men's basketball team.
Michael Frank Smrek (born 31 August 1962 in Welland, Ontario) is a former NBA professional basketball player.
The 7'0, 250 lbs. Smrek was an NBA back-up center, appearing in 194 games over seven seasons. He averaged 9.7 minutes, 2.9 points, 2.2 rebounds, and 0.8 blocks a contest during this time. Drafted by the Portland Trail Blazers with the first pick in the second round of the 1985 NBA Draft out of Canisius College, he played as rookie with the Chicago Bulls, appearing in 38 games and averaged around his career totals. Smrek went on to play two seasons with the Los Angeles Lakers where he earned an NBA championship ring, a year with the San Antonio Spurs, parts of three seasons with the Golden State Warriors and a brief stint with the Los Angeles Clippers.
Smrek graduated from Eastdale High School in Welland, having grown up in Port Robinson, Ontario, a nearby rural farming community. At Canisius he averaged 9.1 points, 5.2 rebounds, 1.6 blocks, and 0.8 in 23 minutes a contest over four years. He is the college's second leading career shot-blocking with 172. (Compatriot Michael Meeks is first with 183.) He also had the two best seasons for Field Goal Percentage in school history with a .632 FGP in 1983-84 and a 601 FGP in 1984-85.
Gino Sovran (born December 17, 1924 in Windsor, Ontario, Canada) is a former National Basketball Association player.
He played in the first ever NBA game when he suited up for the Toronto Huskies against the New York Knicks on November 1, 1946. However, his career was short lived as he would only play in 6 games. Joins Hank Biasatti as one of two Canucks to hit the hardwood for the Toronto Huskies (1946-47). Top college player reaching the 1,000 point plateau for U of Windsor. Also played at University of Detroit Mercy. 2002 Canadian Basketball Hall of Fame inductee. Not Drafted
Dr. Ernest Maurice "Ernie" Vandeweghe Jr. (born September 12, 1928 in Montreal, Quebec, Canada) was a former professional basketball player who played for the New York Knicks of the NBA. Vandeweghe is the father of former NBA All-Star (and former NBA executive) Kiki Vandeweghe. In addition to his NBA playing career, Dr. Vandeweghe is also a physician who served in the United States Air Force. He is the husband of 1952 Miss America pageant winner Colleen Kay Hutchins.
A 6'3" guard, Vandeweghe played collegiately at Colgate University, where he was an All-American. He was drafted by the Knicks in the 1949 BAA Draft, and played in the NBA for six seasons. While playing for the Knicks, Vandeweghe also studied medicine. After retiring from the NBA in 1956, Vandeweghe served as a physician for the Air Force; while stationed overseas in Germany he and his wife became the parents of Kiki Vandeweghe. In addition to Kiki, he had two other children who were world-class athletes; his daughter Tauna won a U.S. national swimming championship in the backstroke (and competed in the 1976 Summer Olympics), and his son Bruk medalled in beach volleyball in the 1994 Goodwill Games.
Dr. Vandeweghe has also served as chairman of the President's Council on Physical Fitness and Sports, and served on the Olympic Sports Commission under President Gerald Ford, where he assisted with development of two key pieces of sports legislation--Title IX and the 1976 Amateur Athletic Act. Currently, he is a senior vice president with Focus Partners LLC, a New-York-based financial services firm, and a consultant with the United States Golf and Fitness Association. He also occasionally provides commentary for several sports publications.
William Percey Wennington (born April 26, 1963 in Montreal, Quebec, Canada)
He is a former NBA center who won three NBA championships with the Chicago Bulls: the 1996, 1997 and 1998 teams. He was also a member of two Canadian Olympic Basketball Teams (1984 and 1992) and the 1983 World University Games team that won gold against the USA. Wennigton has been inducted into the Quebec Basketball Hall of Fame and Canadian Basketball Hall of Fame.
Wennington attended Long Island Lutheran High School on Long Island and St. John's University, New York, United States, playing on one NCAA Final Four team under legendary St. John's Redmen basketball coach, Lou Carnesecca. Before joining the Chicago Bulls, he spent a few notable years in Italy playing for Virtus (Knorr) from Bologna.
In 1995, Michael Jordan scored 55 points against the New York Knicks in his first game at Madison Square Garden since his first retirement. However, it was Wennington who scored the game-winning basket for his only two points of the game, leading him to quip, "Michael and I combined for 57 points." Indeed, Wennington's wit made him a fan favorite, and Chicago-area McDonald's restaurants honored him with a "Beef Wennington" burger (complete with Canadian bacon) in the late 1990s. The "Beef Wennington" won awards from the American Culinary Institute and has been acclaimed as one of the finest fast food burgers of its era.
In October of 2005, Bill Wennington was inducted into the Carey 306 Hall of Fame at St. John's University.
Wennington authored the book "Tales From The Bulls Hardwood".
He now does color commentary for the Bulls on ESPN 1000.
Jim Zoet (born December 20, 1953 in Uxbridge, Ontario, Canada) is a former National Basketball Association player.
He played in 1983 for the Detroit Pistons, appearing in only 7 games and scoring 2 points. Member of the 1980 Canadian Olympic (also national team member 1977-80 and 1990) Played professionally in Holland, England, Argentina, Mexico and the Philippines. Nearly made it to the show surviving to the last cuts at the Atlanta Hawks' training camp in 1982. Split his college career with time in the USA (Kent State University) and Canada (Lakehead University) Not Drafted
Several of these Profiles come from Wikipedia, the free encyclopedia..of which Frozen Hoops contributed....