Results from C.J. Phillips Frozen Hoops All Star Weekend
Junior High All Star Game
Friday April 3, 2009
Father Patrick Mercredi Community High School
Girls Game
Team North 44 - Team South 24
MVP Team North: Chiara Viale, St. Anne Crusaders ($429 scholarship for 48th Legion Athletic Camp)
MVP Team South: Gwenyth Clark, Beacon Hill Bears
Top scorers: Team North Taylor Day,Timberlea Timberwolves 10, Chiara Viale, St. Anne Crusaders 8, Chloe Bauer, Timberlea Timberwolves, 8
Top scorers: Team South Arin McDonald, Father Turcotte Huskies 8
Highlights: Team North All Stars were coached by guest coach and pro basketball player Janet Hatfield replacing Sarah Kelly of St. Annes who was ill. The shooting talents of Taylor Day (TN). The all out hustle and dribbling/passing skills of Chiara Viale (TN), The blocked shots of Gwenyth Clark 7 in total (TS).
Boys Game
Team North 61 - Team South 51
MVP Team North: Ola Dada, St. Anne Crusaders ($429 scholarship for 48th Legion Athletic Camp)
MVP Team South: Khalid Osman, Dr Clark Dinos
Top scorers: Team North Cody Clyburn, Westview Warriors 21, Michael Gonzales, St Gabriel Guardians 11
Top scorers: Team South Khalid Osman, Dr Clark Dinos 22
Highlights: Cody Clyburn showed up at 5 p.m. by himself to practice for 35 minutes in gym prior to girls game (Dedication) Cody unofficially was the Game MVP for Team North but has attended the camp before and so Ola Dada who had a brilliant game with his hustle on both ends was selected Team North MVP. Great outside shots by Michael Gonzales. Good board work rebound by Team Souths Odai Halabi of Thickwood Thunderbirds.
Stands were full and fans were boisterous with more than 250 in attendance!!!!!
Results from C.J. Phillips Frozen Hoops All Star Weekend
Senior High All Star Game
Saturday April 4, 2009
Fort McMurray Composite High School All Star Weekend
Girls Game
All Stars 61 Comp Miners 46
MVP All Stars: Rennette Styne, Westwood
MVP Miners: Willow Meagher
PLAYER OF THE YEAR: Arica Price, Father Mercredi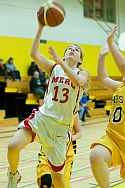 Top Scorers: All Stars: Aric Price 20, Rebecca Deloyer 10, Renette Styne 10
Top Scores: Miners Willow Meagher 20, Skyanne Patey 8
Highlights: Willow Meagher had four 3-pointers including a half court shot at the buzzer at the end of the game. Arica Price had countles steals and drives to the hoop. Skyanne Patey displayed an all-around game with blocked shots, assists and tons of rebounds. Miners were with a depleted becnh with only one substitute.
Boys Game
All Stars 85 Comp Miners 67
MVP All Stars: Evan Pederson, Father Mercredi
MVP Miners: Chad Bean
PLAYER OF THE YEAR: Patrick O'Connell, Comp Miners
Top Scorers: All Stars: Evan Pederson 23, Matthew Burton 19
Top Scores: Miners Mitch Burry 19, Chad Bean 14
Highlights: Jakura with early shooting. Mitch Burry with 3-point shots an all out hustle and a 30 foot shot at the half. Yves Florent-Poku for his entertainment on the court. O'Connell for his all around play. Ben Walsh hitting a 18 footer. .
Proceeds to sponsor some players to attend 48th Legion Athletic Camp
Junior High All Star Game Boys Roster
Senior High All Star Game Boys Roster
Junior High All Star Game Girls Roster
Senior High All Star Game Girls Roster
SPONSORS
SPONSORS
Gorilla Slam Dunk
Legion Athletic Camp
www.frozenhoops.com
Slam Dunk
Fabutan
Fort McMurray TODAY
Keyano College Athletics
Printing Unlimited
Three Pointer
Christie King
Landmark Cinema
Servus Credit Union
Zellers
Special Thanks to Dr. James Naismith
HS boys shoot out lights in All-Star Game
COREY ATKINSON
Fort McMurray Today staff
People went to a three-point competition at Composite High School Saturday night and the High School senior boys all-star game broke out.
The all-stars, made up of Father Patrick Mercredi High School Trappers and Westwood High School Trojans players, defeated the Comp Miners 85-67 in a game where a fair number of points came from outside the arc.
Evan Pederson led the all-stars with 16 points, meshing well with a handful of the Trojans.
"I thought we played really well," he said moments after winning the game MVP for the all-stars. "It just came naturally I guess."
Abdul Jakhura from Westwood was second on the all-stars, who were coached by Merc's Craig Hamner, in points with 13. Jakhura had two three-pointers.
Mitch Burry led the Miners in scoring with 19 points, while Chad Bean counted 14.
The Miner boys didn't lose throughout the season and it took a team of the best from the other two schools, plus the absence of leading senior outside shooter Travis Chaulk to knock them down. Senior Patrick O'Connell won the season's most valuable player award.
"It's awesome," O'Connell said of the award. "I can't ask for more. It's what I actually wanted going in."
The Miners, who were frequently split into two groups of five players with not all of the starters playing at once, had a bit of trouble getting their defence set, but O'Connell wasn't surprised.
Continued After Advertisement Below
Advertisement
"They had the best players from both teams so I wasn't really surprised, but they did well and it was just a really fun game overall," he said.
Although a lot of high school kids could have found something else to do on a Saturday night in spring, the basketball players gave quite a shooting display in what will be the last high school game for a lot of them, O'Connell included.
"It's a lot of fun," O'Connell said. "It was a good way to end the season with this game. Knowing all the other guys and having a good time with them in this game, it was really good."
O'Connell will likely see a lot more familiar faces next year, as he plans on playing on the Keyano Huskies men's basketball team.
"I'll be good buddies with all of them," said O'Connell, knowing a lot of the local players were Comp Miners in the past. "I know every single one of them."
On the girls' side, Father Patrick Mercredi High School Trappers star shooting guard Arica Price drained 20 on her way to a 61-46 all-stars win over the Composite High School Miners and earned a high school player of the year nod to boot.
The Trappers joined forces with the Westwood Trojans in the game, which featured a little bit of fast break and a quite a bit of stingy defence.
"It was actually pretty good chemistry and it was pretty fun," said Price, a senior who ended her high school career at provincials a couple of weekends ago with a 30-point game for Merc.
Chemistry came pretty easily for the all-stars, who were coached by Westwood's Chris Henneberry. Price's skill was on display early in the second half when she had three straight steals leading to four points and an assist off of a momentarily bewildered Miners' breakout.
"Everyone on the team I played with played really well," Price said of their chemistry. "They were really good passing and playing as a team and it all clicked."
Price said she was happy to be named the first-ever high school basketball player of the year in a vote by the coaches.
"I think there's a lot of players that deserve it for a lot of reasons," she said. "I'm pretty proud to have it in my hands."
The Miners were down to six players for the game due to injury and other commitments, but those six players all saw significant time and played well under the circumstances. Comp Senior Willow Meagher — the team's only senior this season — had the ball at midcourt in this game and tossed up a prayer with less than a second to go. It drained to give her a game-high 20 points, a large vocal cheer from her bench, and a very happy way to end her high school basketball career.
Just before the shot, Meagher's teammates were strongly encouraging her to shoot.
"I was like OK… this is going to be nothing, It's going to hit the wall, and then I was like, 'What?'" she said. "What? I looked at the clock to make sure it was real. It's pretty cool."
An estimated 250 fans turned out to Father Patrick Mercredi High School Friday night to see a pair of entertaining junior high school games.
The North team won both of this year's games, as the north girls all stars won over the south girls 44-24 and the north boys all-stars won 61-51 over the south boys.