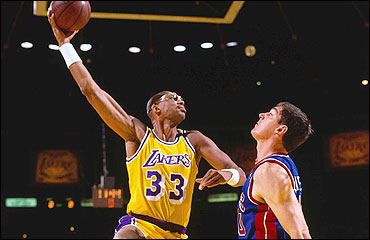 Following was written for Basketball Weekly April 22, 1986 by Curtis J. Phillips
Donohue's showing that sneakers can be an alternative to skates

In 1891, Dr. James Naismith decided to nail two peach baskets to a gym balcony situated 10 feet off the ground and with a few simple pounds of the hammer, the sport of basketball was born.

Naismith, a Canadian clergyman working at the International YMCA Training Sghcool in Springfield Mass. at the time, had given the Americans the "All-American Game."
Nearly 81 years later, they would give it back with an American by the name of Jack Donohue crossing the border.

"When I came here in 1972, I don't know how I felt, but I know I was ignorant of what was going on." recalled Donohue, coach of the Canadian national men's basketball team since 1972. "I didn't know the problems that were here. But we, by that I mean mainly the national team, wre just in the infancy stages. But credit has to be given to the people who kept basketball alive through the 1960s and 70s' because obviously the winning wasn't there and there wasn't great government support, the things that usually keep you gong strong.

There wasn't overall interest in the national program, so basically
without these people who kept basketball alive there would have been no 1975 when we first beat the Soviet Union. Basketball was not allowed to go out of style. When I got here there were so many factors that happened and we were lucky."
Although he is or Irish decent, "Luck" has had little to do with
Donohue's success in the world of roundball.

"Hard work" is more to the liking. A solid work ethic that started
way back.
His initial touch with fame came in the early 1960s' when a 14-year-old by the name of Ferdinand Lewis Alcindor Jr., decided to enroll his 6-foot-9 frame at New York's Power Memorial High School.

Now don't get me wrong, Dionohue wasn't some flunky coach waiting for a miracle to come along. He had been turning out winning teams at Power Memorial, a Catholic school in midtown Manhattan, for several years.

In fact, he had won the New York City Catholic School League even before he had ever heard of or laid eyes on Alcindor.

Donohue hard produced countless players for a higher education of college or university hoops.

Despite his record, no one outside of the Big Apple really knew of his exploits.

All that would change with the arrival of Alcindor.

We could fills several pages with the accomplishments of Donohue with Alcindor in the pivot but to save you the time, I'll simply tell you this - it would be a few years later, while in the pro ranks - that Alcindor would change his handle to Kareem-Abdul Jabbar.

Kareem's patented skyhook and his place in the record books speak for themselves.

Donohue recalled his early days with young Ferdinand.

"It was super to coach him. You have to remember he was only 15 or 16 years- of-age at the time and he worked so hard and there were so many good things. Everyone knew that we was going to be very big. He wasn't a good player then, he was just a big kid and he wanted to play.

"He didn't have a big head and he was determined to work. He was very proud that he had these talents although they weren't developed yet.
But he was willing to work. He was just learning to play the game at the time. And I'd have to say that we would be the most gifted player I have every coached."

HELLO CANADA

Following a stint in the college ranks (Holy Cross 1965-72), Donohue grabbed hold of his chalk and whistle and made the trek north of the 49th parallel.

"Don-a-who?" was the question of Canadian hoopsters on the rebound.
The challenge was on for Donohue and he approached it with the
tenacity of a 5-foot-6 guard rebounding against a 6-foot-10 power forward.

"When I came here in '72, I'm not even sure the national team was a factor then because it wasn't publicized," recalls Donohue. "Very few people realized how they would even get to the national team.

"Since then there has been a drastic change. The biggest thing is
that the national team is solidified now and it's a solid unit which
will be competitive in almost every tournament we go into.

"But I'm still concerned about the commitment to excellence on the part of the Canadian universities. The commitment, if in fact it exists, is that I'd like to see for lack of a better word, a super
league in basketball. I'd also like to see a professional basketball
team in Canada. True, there was the Toronto Tornadoes (Continental Basketball Association) but they were not the NBA.

"I don't know of any of our players or any players, who dream of playing in the CBA. Maybe three or five years from now the CBA will be an important goal to inspire for, but not right now."

Donohue was quick to backtrack and point out that the CBA does have it's advantages though.

"Once a player has committed himself to professional basketball, and it's not the NBA, it's (CBA) the best place for people to see him. If he went to Europe he could make a lot of money but the scouts wouldn't be able to see him play and they don't really know the calibre of basketball.

"Even if they saw you play three or four games in Europe, they still would have to evaluate the play of the others teams. Here (CBA) they have a pretty good idea of the other teams."

Does Donohue foresee in the basketball crystal ball an NBA team in Canada?

"I think it will happen. It is a necessity and it should be in the
Toronto area. Toronto is the place the NBA wants to be."

True, pro basketball may help promote and develop basketball in
Canada but what other improvements are needed Coach Jack?

"I think basketball in itself is an easy game to sell," said
Donohue. "It's so easy for people to get into basketball. We have a gym in every school and that's all you need to get the kids
interested.

"I think the real future of basketball in Canada is in the coaching
association. We should put money into it. We certainly shouldn't
neglect our athletes but coaching is where the development is."

Talking about coaching, Donohue took a look into the mirror and
talked about his own coaching skills and how they have changed since his arrival in the Great White North.

"I've become much more patient with things," he said. "I've gotten to know international basketball pretty intimately and conversely I have lost track of what's going on in major college basketball in the States. It's a trade off. . . you can't keep track of everything.

"My coaching? I want to be known just as a guy who did his job. I have no great aspirations. When you finish coaching you finish
coaching. But I would hate to have someone think I never did my job well. The thing is that I always have this idea that if I get
arrested for being a professional basketball coach, I just want to
make sure they have a lot of evidence. "

And when the evidence is 1aid. upon the table the key item, to date, would be the "Miracle on Hardwood'" in Edmonton a little over two years ago.

"It had a tremendous impact," said Donohue of Canada's gold medal performance at the 1983.World University Games (Universaide). "It is really what got the attention of the public more than anything else that's happened in basketball in the last few years.

" It's something I'll never forget, but that's three years ago. It
was like the birth of my first daughter. When she was born I held her in my arms when she was 30 seconds old, I'll never forget that. It (the win) was great and wonderful but we have a different team now and we have different ambitions.

" But we have to learn about the past and take advantage of it. The big things are in the future, a year down the road. The best things are always coming down the road."

The 1983 World University Games, of which this writer had the
opportunity to be involved in media information for basketball, would finally start the fast break to national attention..

No longer was it the red, white and blue of the good ol' U.S. of A., but simply the red and White Maple Leaf at center court.
Fittingly enough, although Donohue never knew it and is probably reading it here for the very first time, the lady who escorted the gold-winning Canadian team to the press room was none other than the granddaughter of Dr. Naismith.

So who knows? Maybe the good doctor was there all the time, lending a guiding hand.
** Donohue died April 16, 2003 after a lengthy battle with cancer.
Jack Donohue, Architect of Canadian Basketball
, 1933 - April 16, 2003
Jack Donohue, who was the architect of the Canadian basketball program and coached such famous players as Kareem Abdul-Jabbar in high school, has died of cancer in Ottawa at the age 70 years.
He served as head coach of the Canadian men's basketball team for 17 years and was the longest-serving head coach in amateur or professional sports in Canada. He led the team to the Olympics four times and won the gold medal at the 1983 World University Games in Edmonton.
He led the Canadian basketball team to a fourth-place finish at the 1976 and 1984 Olympics. He was inducted into the Olympic Hall of Fame and retired from coaching in 1988.
Donohue to be Inducted into the Canadian Sports Hall of Fame
May 20, 2004 - Toronto, ON - The Canadian Sports Hall of Fame announced yesterday that the late Jack Donohue is one of six Canadian Sport achievers who will be inducted into the Hall in 2004.
Following a meeting of the Selection Committee, two builders and four athletes, were selected for induction.
The builders are: Donohue, basketball and William "Scotty" Bowman, hockey. The athletes are: Donovan Bailey, track & field: Lori Fung, rhythmic gymnastics: Abby Hoffman, track and field: and Larry Robinson, hockey.
They will be formally recognized at the Induction Gala on Monday, November 1, 2004 at the Fairmont Royal York Hotel in Toronto.
The late Jack Donohue had a tremendous impact on the sport of basketball in Canada. Previously a very successful
high school and college coach in the United States, he coached Canada's national team program from 1972 to 1988 and qualified the Canadian team for the 1980, 1984 and 1988 Olympics.
William "Scotty" Bowman is being recognized for his legendary coaching career in the National Hockey League.
His nine Stanley Cup wins behind the bench eclipsed the record previously set by "Toe" Blake and he ranks
first in wins with 1,244 as a coach. He retired in 2002 after his Detroit Red Wings swept the Carolina Hurricanes in four games.
Donovan Bailey thrilled all Canadians with his gold medal winning performance in the 1996 Olympic Games in Atlanta in a world record 9.84 seconds. He followed this up with another gold medal as part of the 4x100 metre men's relay team. Bailey was also the winner of the Lionel Conacher and Lou Marsh trophies in 1986.
Lori Fung was the first ever gold medallist in the sport of rhythmic gymnastics at the 1984 Olympic Games in Los
Angeles, and continues to be involved in the sport as a coach following her 1988 retirement. The Vancouver
resident is also a member of the Canadian Amateur and British Columbia Sports Halls of Fame.
Abby Hoffman represented Canada with distinction from 1962 to 1976, competing in 4 Olympics. She also competed in 2 Commonwealth Games, winning gold in 1966 in the 880 yards. A tireless worker for women in sport, she was the first female director of Sport Canada (1981-91) where she developed the Athlete Assistance and Best Ever programs.
Larry Robinson was a multiple Stanley Cup winner as a defenseman with the Montreal Canadiens including one in
his rookie year. He was a member of Team Canada in 1976, 81, and 84 at the Canada Cup tournaments, all Canadian victories. In 1999-2000 he took over from Robbie Ftorek and coached the New Jersey Devils to a Stanley
Cup victory.
The addition of these six brings the total number of Honoured Members in Canadas Sports Hall of Fame to 436.
This summer Canada Basketball will host the 2004 Under-21 Tournament of the Americas in Halifax, Nova
Scotia from July 28 to August 1. For all the latest information on the tournament visit www.basketball.ca/u21.
Canada Basketball is a private, not-for-profit corporation that is committed to the growth of the sport in Canada. Just as important, Canada Basketball is focused on the development and preparation of Canadas national teams for the Olympic, Pan American and FISU Games as well as the World Championships. The aspiration of Canada Basketball is to instill the pride, commitment, passion and respect that Canadians personify into the development of basketball across the country and internationally.