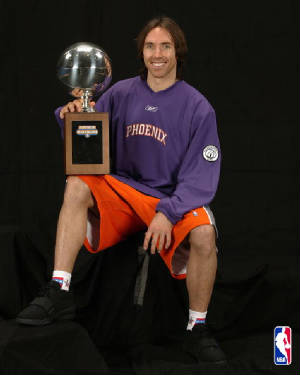 The True Captain Canada


2005-06
Won second consecutive NBA MVP Award after posting career highs in scoring (18.8, 29th in the NBA), rebounds (4.2), field goal percentage (.512, T-16th), free throw-percentage (NBA-best and franchise-record .921) and minutes played (35.4) in 79 games in his 10th NBA season... Only the ninth player ever to win back-to-back MVP titles and only the third guard (Magic Johnson, Michael Jordan)… Became only the fourth player (Reggie Miller in 1993-94, Mark Price in 1988-89 and Larry Bird in 1986-87 and 1987-88) in NBA history to shoot at least 50 percent or better from the field, 40 percent or better from behind the arc (.439, 6th) and 90 percent from the charity stripe, and meet all the statistical minimums (300 field goals made, 55 three-point field goals made, 125 free throws made)…Led the NBA in assists (10.5) for the second year in a row and is the first NBA player since Kidd (1998-99, 1999-00) to average double figures in assists in consecutive seasons... A Nash-led team has led the league in scoring in five consecutive seasons (2004-06 with Phoenix, 2001-04 with Dallas)... Averaged 20.4 points, 10.2 assists, .502 FG, .368 3FG, .912 FT in 39.9 minutes in 20 games in 2006 NBA Playoffs… Became just the third player (Magic Johnson seven times, John Stockton three times) to post double figures in assists in seven consecutive playoff games (May 12-26, 2006) and first to do so since Stockton did it in the 1996 NBA Playoffs… Scored in double figures 19 times, 20-plus points 11 times, 30-plus points 2 times including 2006 playoff-high 32 points in Game 6 at Lakers on May 4… Notched his fifth career postseason (fourth with Phoenix) game with at least 30 points and 10 assists finishing with a team-high 31 points (10-15 FG, 3-5 3FG, 8-9 FT), game-high 12 assists in 41 minutes in Game 1 of the conference semifinals on May 8… Only Kevin Johnson (7) has more 30 point and 10 assist games in Suns playoff history… Notched NBA postseason leading 12 double-doubles… Dished out 10 or more assists 13 times, including a 2006 NBA Playoff-high 16 assists in Game 1 of the conference finals at Dallas on May 24… In that game, scored 10 of his 27 points in the final 3:27 to overcome a 114-105 deficit to post a 121-118 victory… Ranks second on the Suns all-time postseason leaders in assists with 382, trailing only Kevin Johnson (935).

2004-05
Joined Bob Cousy (1956-57), Oscar Robertson (1963-64), Magic Johnson (1986-87, 1988-89 and 1989-90), Michael Jordan (1990-91, 1992-93, 1995-96, 1997-98) and Allen Iverson (2000-01) as the only guards in league history to be named NBA's Most Valuable Player… Became only the second player in franchise history (Charles Barkley, 1992-93) to receive the NBA's top individual honor and joined Hakeem Olajuwon (1993-94, Nigeria) as the only international players to win the award… First Team All-NBA selection for the first time in his career, and was first Suns player to appear on the first team since Jason Kidd (2000-01)… Concluded his ninth NBA season by averaging 15.5 pts, NBA-best 11.5 asts, 3.3 rebs, .502 FG (T20th), .431 3FG (6th), .887 FT (6th) in 34.3 mins in 75 games in '04-05… Posted highest assists average (11.5) in NBA since John Stockton averaged 12.3 in 1994-95 and the second highest assist average in franchise history, trailing only Kevin Johnson's 12.2 average in 1988-89… Was only NBA player to average double figures in assists and one of three guards (Jason Terry, Mike Miller) to shoot 50 percent or better from the field (.502)… Suns were 2-5 when Nash did not play and 60-15 when he did… Became only player in NBA history to record double figures in assists in 11 consecutive victories from Dec. 5-26 (prev. 10 by Magic Johnson, 1986-87)… Named to the NBA All-Star Team for the third time in his career... Won PlayStation Skills Challenge at 2005 All-Star Weekend… Had 16 20-point, 10-assist games… Scored 30-plus points twice… Had career-high 49 double-doubles, including his second career triple-double with 12 points, career-high 13 rebounds, 12 assists in 27 minutes before resting during the fourth quarter vs. Philadelphia on March 30… Shot 50 percent or better 39 times… Distributed 10 or more assists 59 times and 15 or more 11 times… Scored season-high 33 points at Sacramento on Feb. 8, snapping the Suns' eight-game losing streak at ARCO Arena… Named Western Conference Player of the Month for November after guiding the Suns to an NBA-best 12-2 mark and averaging 16.0 points and an NBA-best 11.4 assists… Named Western Conference Player of the Week on Feb. 14 and Dec. 27… Distributed season-high 18 assists three times; at Dallas on Nov. 16, at L.A. Clippers on Nov. 21 and vs. Utah on Feb. 14, the most by a Suns player since Jason Kidd dished out 19 assists vs. Denver on March 3, 2001… In his first game against his former club, had 17 points, 18 assists, six rebounds and 10 turnovers at Dallas on Nov. 16… Nash's 17 assists, one-turnover performance at Cleveland on Nov. 10 was the most assists by a Suns player with one or fewer turnovers since Jason Kidd had 19 assists and zero turnovers on March 4, 1999 at Seattle… Missed six games due to injury and was a DNP (Coach's Decision) in season finale at Sacramento on April 20… Suffered a left thigh contusion at Indiana on Jan. 14 and left game with 10:57 remaining in the second quarter and missed the next three games (Jan. 15-19, last game with back spasms injury)… Did not dress in first three games after the All-Star break due to left hamstring strain (Feb. 23-27)… Suffered a moderate concussion vs. New Orleans on Nov. 26 in the second quarter and did not return after logging 19 minutes… Signed as a free agent on July 14… Followed sensational MVP performance in regular season, with even gaudier numbers in the postseason, averaging 23.9 points, 11.3 assists, 4.8 rebounds on .520 shooting in 15 playoff games… Became the first player in NBA history to record four consecutive games with at least 25 points and 10 assists in the postseason (May 18-24)… Joined Wilt Chamberliain and Michael Jordan as the only players to score 40-plus points in one playoff game and then collect a triple double in the next game… Scored career-high 48 points (regular season and playoff) in Game 4 of conference semifinals at Dallas on May 15, the second-highest point total in Suns playoff history and followed that effort up with the fifth career triple-double in Phoenix postseason history (and his first in the playoffs) with 34 points, career playoff-high 13 rebounds and 12 assists in Game 5 vs. Dallas on May 18… Scored at least 20 points in eight consecutive playoff games (May 11 – 28), the most by a Suns player in the postseason since Charles Barkley did it 12 times in a row from June 5, 1993 – May 11, 1994.

2003-04:
Despite having the difficult task of keeping all of the Mavericks' offensive weapons involved, Steve Nash turned in yet another brilliant season… In his eighth NBA season and his sixth with the Mavericks, averaged 14.5 points, a career-high 8.8 assists and 3.0 rebounds in 33.5 minutes in 78 games (all starts)… Among NBA leaders, ranked third in assists, first in assists per 48 minutes (12.6), sixth in assists per turnover ratio (3.29), second in free throw percentage (.916), tied for 11th in three-point field goal percentage (.405) and 32nd in field goal percentage (.470)… Over the final 44 games he played, Nash shot .516 from the floor… Averaged 10.0 assists over his final 32 games played… Garnered the fourth most votes and was named to the 2003-04 NBA All-Interview First Team… Scored in double figures 60 times, 20 or more 16 times and had 28 double-doubles with one triple-double… Dished out a career-high and NBA season-high 19 assists vs. Sacramento on April 1 (prev. 17 Dallas at Utah, Nov. 20, 2000)… Tallied season-high 31 points (11-17 FG, 3-4 3FG, 6-7 FT) vs. Cleveland on March 30… Recorded first career triple-double with 14 points, 12 assists and a career-high 10 rebounds vs. Portland on Nov. 17… Tied the Maverick franchise record for most three-pointers made without a miss in a single game with five vs. New Orleans on Nov. 11.

2001-02:
Averaged career-highs of 17.9 ppg, a team-high 7.7 apg and 3.1 rpg in 34.6 mpg in a career-high 82 games...only Maverick player to play and start in all 82 games…shot .483 from the field, a team-high .455 from 3-point range and a team-high .887 from the line…registered a career-high 634 assists…selected to the Western Conference NBA All-Star Team…named NBA Player of the Week from 12/10-16/01…scored in double figures 69 times, had 20 or more points 36 times and 30 or more points six times…led team in scoring 11 times, in assists 66 times and in steals 17 times…156 3-point field goals made was the second-highest single season total in Dallas history…21 games of double figure assists…ranked 34th in the NBA in Points Per Game, ninth in Assists Per Game, fifth in the NBA in Free Throw Percentage, 25th in field goal percentage and fifth in 3-point field goal percentage...averaged 19.4 ppg, 8.5 apg in the wins and 14.9 ppg and 5.9 apg in the losses...made the game winning 3-pointer with 0.6 seconds on the clock in overtime at San Antonio (12/26/01)…career-high 39 points (career-high 13-16 FTs), vs. Portland on 12/11/01…recorded 20 double-doubles…19 points (7-10 FGs) and a season-high 15 assists in 30 minutes vs. Toronto on 3/7/02… just missed first career triple-double with 16 points, career-high 9 rebounds and 9 assists in 41 minutes at Denver on 3/3/02

2000-01:
Averaged career-highs of 15.6 ppg on .487 shooting and 7.3 apg and 3.2 rpg in 34.1 mpg in 70 games....Missed 10 total games due to a sore left hamstring (1/11/01-1/20/01 and 2/3/01-2/13/01)....Missed the L.A. Lakers game (12/3/00) and Houston game (12/5/00) due to a bruised right calf....Fourth in the league in FT shooting at .895....11th in the league in assists (7.3)....Shot a team-high .406 from the 3-point arc....Those numbers were career-highs as well....In wins averaged 15.3 ppg (.506 FG) and 7.5 apg while in the losses averaged 16.2 ppg (.453 FGs) and 6.8 apg....Led team in scoring eight times....Scored in double figures 57 times and had 20 or more points 19 times....Had 10 or more assists 14 times....Had 12 double-doubles (all point-assist)....Career-high 31 points (10-22 FGs, 3-9 3FGs) vs. L.A. Lakers (2/20/01)....Attempted a career-high 22 field goals in that game....Grabbed a season-high 7 rebounds twice (vs. Philadelphia on 1/23/01 and vs. San Antonio on 11/10/00)....Played a season-high 46 minutes vs. Detroit (1/3/01)....Career-high 5 steals at Boston (12/18/00)....Career-high 17 assists at Utah (11/20/00). Averaged 13.6 ppg, a team-high 6.4 apg and 3.2 rpg in 37.0 mpg in 10 playoff games....Started all 10 playoff games....Scored in double figures eight times....Shot .882 (30-34 FTs) from the free throw line....Led the team in assists in seven of the 10 games....Dished out a playoff-high 14 assists against San Antonio in Game 4 (5/12/01)....Notched a playoff-high 43 minutes at Utah in Game 2 (4/24/01) and in Game 5 (5/3/01)....Had a playoff-high 27 points (8-15 FGs) against Utah in Game 4 (5/1/01)

1999-2000:
Appeared in 56 games (27 starts) and averaged 8.6 points, 4.9 assists and 2.2 rebounds per game in 27.4 minutes....Played his best at the end of the season after returning from a right ankle tendon strain which cost him 25 games....In the last 10 games he averaged 13.6 ppg, 8.1 apg in 40.1 minutes....Scored in double figures in 15 of the last 20 games and 24 times overall....Had six double-doubles all of which came in the last 19 games....Played a career-high 51 minutes at Denver on 4/6/00....Posted a season-high 11 assists twice - 3/16/00 at San Antonio and 3/27/00 at Utah....Twice went 10-11 from the foul line to post career-highs in both of those categories - 3/27/00 at Utah and 4/18/00 vs. Lakers.

1998-99:
Played in 40 games and averaged 7.9 ppg on .363 shooting with 5.5 assists in 31.7 minutes....Led the Mavericks with 219 assists and ranked second in free throw percentage (.826)....Missed the final 10 games of the season due to a lower back strain....Scored in double figures 12 times and dished-out 10-plus assists five times.

1997-98:
Ranked 13th in the NBA in 3-point accuracy (.415), connecting on 81-195 with the Suns....Connected on 74-86 (.860) free throws, tops among the Suns....One of the most improved players in the NBA, Nash bettered his rookie numbers by 5.8 points, 1.1 rebounds, and 1.3 assists.

1996-97:
Averaged 3.3 ppg on .423 shooting with 2.1 assists in 10.5 minutes as a rookie....Tallied 17 points, 12 assists and seven rebounds on 11/14/96 at Vancouver, his only start of the season....Connected on 42-51 (.824) free throws and 23-55 (.418) 3-pointers....His 3-point accuracy was second-best ever for a Suns rookie (Wesley Person .436).

College:
At Santa Clara, he was twice named the West Coast Conference Player of the Year (1994-95, 1995-96), the first Bronco to do so since Kurt Rambis....Finished career as the Bronco's all-time leader in career assists (510), free throw percentage (.862), and 3-pointers made and attempted (263-656)....Third on the school's all-time scoring list (1,689)....Holds Santa Clara's single-season free throw percentage record (.894)....Named Honorable Mention All-America as a senior by The Associated Press and the USBWA....Two-time Wooden Award candidate....Averaged 17.0 points, 6.0 assists, and 3.5 rebounds as a senior....Only the fourth player in WCC history to lead the conference in scoring and assists in the same season, a feat first accomplished by John Stockton....The first freshman named Most Valuable Player of the WCC Tournament....Scored 40 points (knocking down 8-17 3-pointers) at Gonzaga in 1995....Was 21-21 from the free throw line against St. Mary's in 1995....Nailed six straight free throws in the final 31 seconds to top Arizona in the 1993 NCAA Tournament as a freshman....Played for the Canadian National Team in 1993 and won a silver medal after a loss to the Team USA in the World University Games, which included such players as Michael Finley and Damon Stoudamire....Played for British Columbia in the 1993 Canada Games winning a bronze medal....A member of the 1996 Nike Desert Classic All-Tournament team.





Full name is Steven John Nash
Married longtime girlfriend Alejandra Amarilla in June 2005
He and Alejandra welcomed twin daughters, Lola and Bella, prior to start of 2004-05 season
In April 2006, became just the third Canadian ever to grace the cover of a Wheaties box
In July 2005, hosted the first Steve Nash Foundation Charity Classic basketball game in Toronto: Photos I Video
In August 2005, was named to the new Athlete Advisory Board of the Olympic Spirit Toronto, which has the world's first and only Olympic Discovery Center
Was featured in an issue of GQ magazine during the summer of 2005
In 2001, formed the Steve Nash Foundation, which aims to grow health in kids by funding projects that encourage participation in physical activity and other healthy life choices… For more information, visit SteveNash.org
Recently partnered with Canadian-based computer manufacturer MDG Computers, Inc. and will appear in various TV, radio and print advertisements
Attended the premiere of the movie Wedding Crashers in July 2005 and met actor Owen Wilson in New York
Is the sponsor of the Steve Nash Youth Basketball League in British Columbia that has grown to over 10,000 participants
Created the Recycle with Steve Nash Program for the Mavericks' four adopt-a-schools
Grew up in Victoria, British Columbia and played hockey, lacrosse and soccer
Is an avid fan of English soccer, his favorite club is Tottenham
His father, John, played professional soccer in South Africa and England
Brother, Martin, plays professional soccer and formerly played first division in England and for the Canadian National Team
Subject of the book "Long Shot: Steve Nash's "Journey to the NBA", by Jeff Rudd
Was named Canada Games honorary chairperson
Averaged 21.3 points and 11.2 assists and 9.1 rebounds as a senior at St. Michaels University High in Victoria, British Columbia