The invention of basketball was not an accident. It was developed to meet a need. Those boys simply would not play "Drop the Handkerchief." ~ James Naismith
The rule was "No autopsy, no foul." ~ Stewart Granger, on the pickup games of his childhood.
"He's the one who's working in the NBA and I'm unemployed," Former Canadian National Team coach and now retired, Jack Donohue on advice he would give to former player Jay Triano as he was about to join part of the Toronto Raptors coaching staff.
Another Donohue gem: "If you fall into a puddle wearing a new suit, you can either whine for months about ruining your suit or check for fish."
"You can't coach basketball Forrest, you play it."
-Dr. James Naismith to F.C. "Phog" Allen in 1906
"Oh, my gracious! They are murdering my game." Dr. James Naismith, while watching especially physical play in a 1910 Kansas-Missouri game
"I am sure that no man can derive more pleasure from money or power than I do from seeing a pair of basketball goals in some out of the way place--deep in the Wisconsin woods an old barrel hoop nailed to a tree, or a weather-beaten shed on the Mexican border with a rusty iron hoop nailed to one end."
-Dr. James Naismith
Bobby Croft Texas warmup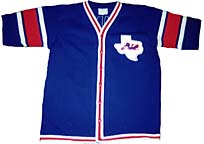 Uniform Numbers of Canadians in the Pros:
Norm Baker: 16, Chicago
Hank Biasatti: 19, Toronto
Ron Crevier: 40, Golden State - 42, Detroit
Bobby Croft: 25, Kentucky 43, Texas (American Basketball Association)
Rick Fox: 17, Lakers 44, Boston
Stewart Granger: 10, Cleveland 11, New York 20, Atlanta
Lars Hansen: 22, Seattle
Bob Houbregs: 8, Fort Wayne 10, Baltimore 14, Milwaukee 17, Detroit 20, Boston
Todd MacCulloch: 11, Philadelphia 50, Philadelphia
Jamaal Magloire: 24, Charlotte/New Orleans
Steve Nash: 13, Dallas and Phoneix
Leo Rautins: 7, Atlanta 11, Philadelphia
Mike Smrek: 52, Golden State, LA Clippers, LA Lakers 55 Golden State
Ernie Vandeweghe: 9 and 18, New York
Bill Wennington: 7, Sacramento 23, Dallas 34, Sacramento 42, Chicago
HARLEM GLOBETROTTERS STORY
Some people say that Norm Baker was the first white player for the world famous Harlem Globetrotters. True it was a Canadian but not Baker. Read on.
By Tom Hawthorn
VANCOUVER
Ritchie Nichol is 79 now, a wrinkled storyteller with hair as white as his skin.
He has not picked up a basketball in years, but in his day he was one of the finest cagers to prowl the parquet floor. "I'm almost a relic now," he said, laughing.
The game was different then, a plodding, bruising affair with lots of elbowing for position under the basket. Only one team played the kind of high-flying, helicopter-spinning, no-look-passing, razzle-dazzle game that fills highlight reels today.
Jeff Vinnick, National Post

The game had yet to be integrated and the few professionals belonged to such barnstorming troupes as the Harlem Globetrotters, the black team whose globetrotting in the 1930s was limited to Canada and the parts of their homeland that lay north of the Mason-Dixon line.

The Globetrotters are celebrating their 75th anniversary this month. All the old stories are being recounted -- the first game in Hinkley, Ill.; meeting Pope John XXIII; the on- and off-court shenanigans of Goose and Curly and Meadowlark.

One little-known anecdote took place in a small town on the B.C. coast, where an eager young man named Ritchie Nichol was asked to fill in for an injured 'Trotter.

When he did so, 60 years ago this month, he became the first white man to wear the red-white-and-blue strip of the famed Globetrotters.

"I don't think they would have suited me up, except it was way out of the way," Nichol said.

The Globetrotters had played in Vancouver that week and invited Nichol to join them as a guest. They had met him four years earlier when the brash young man, then only 15, suited up against them for a game in Nanaimo, B.C.

The 'Trotters easily handled the teenaged upstarts, but team owner and founder Abe Saperstein was impressed by two players: Norm Baker (who would be voted Canada's basketball player of the half-century in 1950) and Nichol. Nichol played against the barnstormers several more times over the years, forging a friendship that overcame the racial prejudices of the time.

The newspapers in those days called the Globetrotters the "hi-de-ho hoopsters," "merry melon maniacs," "coloured casaba comedians," and "coal-hued magicians of the maple courts."

Nichol joined the troupe aboard a ship bound for the pulp-and-paper mill town of Woodfibre on Howe Sound. The town of 800 was accessible only by boat.

Babe Pressley, a 6-foot-2, 190-pound guard, had sprained his ankle in Vancouver. On the boat, Saperstein, a stocky tailor's son from Chicago, pulled Nichol aside. He said: "You know, Rich, that uniform of Babe's will fit you."

More than 400 crowded inside the small Woodfibre gym on Jan. 15, 1941, filling the upper balcony. When Nichol took the floor, he remembers hearing someone shout: "Where's the shoe polish?"

The only known eyewitness account of the game was written by Bruce Lowther of Victoria shortly before he died of brain cancer two years ago.

Lowther had been born and raised in Britannia Beach, a mining town across the Sound from its pulp-and-paper rival. He talked his way into being the official scorer.

"No sooner had things started than the Woodfibre gang got mad at the usual 'Trotter antics," he wrote in a previously unpublished letter. "They wanted to play seriously and showed it.

"After a few minutes of hacking, chopping, pushing, the 'Trotters decided to fire back. They utterly demolished Woodfibre, playing most seriously all the way.

"I know the Trotters scored 103 points because the gang on the bench kept rooting for more than 100; I forget if Woodfibre got 25 or 35. Probably the latter."

In a pre-game drill, the visitors stood in a circle and whipped the ball behind backs and between legs, a dizzying display of legerdemain that has since become a Globetrotter trademark known as the Magic Circle. They perform it to the tune of Sweet Georgia Brown.

"Mystifying if you're watching," Nichol said, "but easy if you're part of it. Just keep your eye on the ball."

The substitute was keen on taking part in comedy routines for which in the past he had been a foil. The 'Trotters had a different idea.

"Abe called a timeout. He pulled me aside and said, 'Listen, Rich, you'd be better to play it straight. The crowd here wants to see the colour guys do their thing.' What Abe said in those days was the bible."

After the game, Saperstein shoved 50 bucks into Nichol's hand.

"A thank you. Abe wasn't small in that way. He was small in stature, but nothing else."

The following season, the Globetrotters signed Reece (Goose) Tatum, a hoopster with the heart of a clown and the eyes of a sniper. When he joined the Army Air Corp, the Globetrotters replaced him with Bob Karstens, a brilliant dribbler from Dubuque, Iowa, who is recognized as the first white Globetrotter because he signed a contract.

Nichol never played another game with the Globetrotters, although he did get to play against them again.

On Jan. 11, 1946, the Varsity Thunderbirds came out storming during a game on the University of B.C. campus. Leg-weary, perhaps tired by having to follow a night game with a noon start, the Globetrotters were in trouble. Just eight minutes in, Zack Clayton of the barnstormers suffered a broken rib in a scramble under the basket and had to be replaced by Silent Silas Phelps.

The Thunderbirds went on to a famous 42-38 victory. Nichol contributed a pair of field goals to go with a free throw for five points. His team was led by Pat McGeer's 14 points. (A lefty when shooting, McGeer later became a Cabinet minister in a right-wing Social Credit government in B.C.)

Sometimes, Nichol's friends tease him about being the "Jackie Robinson of basketball," although he knows the barrier he crossed was nothing like that faced by his Globetrotter friends.

Several Globetrotters played pioneering roles in racially integrating pro basketball. Bernie Price played for the Chicago Studebakers of the National Basketball League in 1942; the NBA's Boston Celtics drafted Chuck Cooper in 1950; Cooper's teammate Nat (Sweetwater) Clifton had his Globetrotter contract purchased by the New York Knicks in 1950.

These days, the Globetrotters have three touring teams of 10 players each. One edition will play at GM Place in Vancouver on Feb. 16, when they will beat the tar out of their opponents. (The New York Nationals have replaced the long-suffering Washington Generals as the Globetrotters' patsies.)

Nichol can remember when the clown princes took their basketball seriously.

"They were real professional athletes," he said admiringly. "You could rough them up quite nicely and they wouldn't complain."

1995 Canadian Basketball Hall of Fame inductee

Fred Thomas (Athlete) Fred played for Assumption College which played many of its games against NCAA opponents. At the end of his four-year career Fred was fourth on the NCAA's list of top scorers. Fred also played for the Harlem Globetrotters for two years. His legend lives on at the Fred Thomas Park in Windsor, named in his honor shortly before his death.

Over Canadians to take their place in the Magic Circle include baseball legend Ferguson Jenkins and Pascal "Frenchy" Fleury

Did you know that the UBC T-Birds once defeated the Globbies?