DRILLERS PLAYER PROFILES
(compiled by Frozen Hoops) of Calgary Drillers players that are signed and sealed (but not yet confirmed delivered) for the 2004-2005 American Basketball Association.
LeLand Anderson, 6-8, P/SF, Attleboro(North)MA Southern California Summer Pro League this past summer was picked up from Long Beach Jam roster. 2001-02: Played in his first game as a Providence Friar and scored two points in nine minutes against Siena (11/16/01)...Scored five points and registered four rebounds against Brown (11/28/01)...Scored 10 points and was 6-6 from the free-throw line in the second half against Boston University (12/22/01)...Recorded seven points and three assists against Morgan State (12/27/01)...Played 17 minutes and scored four points against Central Connecticut (12/30/01)...Missed eight games due to a knee injury before returning against Virginia Tech (2/9/02)...Scored a career-high 14 points in 29 minutes of action...Scored five points and recorded four rebounds against Miami (2/26/02)...Scored six points and recorded seven rebounds versus Notre Dame (3/2/02)...Registered eight points versus Georgetown in the BIG EAST Tournament (3/6/02)... 2000-01: Sat out the 2000-01 season for the Friars after transferring from the University of Michigan during the off-season...Practiced with the team. AT MICHIGAN: Saw action in 16 games as a freshman for the Wolverines...Averaged 2.1 points and 1.4 rebounds per game...Recorded a career-high eight points and seven rebounds against Western Michigan (11/27/99)...Missed 10 consecutive games with a injury to his right leg...Transferred following the 1999-00 season. HIGH SCHOOL: Played at Attleboro High School...finished high school career as Attleboro's all-time leading scorer with 1,629 points...averaged 19.0 points and 7.0 rebounds...Missed all but five games his senior year after battling a quadriceps injury...Earned USA Today honorable mention and All-Massachusetts honors in 1998...Led Attleboro to state championship in 1998 as he recorded 29 points and 16 rebounds
Nate Driggers Nate Driggers, who came from tiny Montevallo College in Alabama, couldn't get a tryout with a professional team. He came to play in Bismarck fo the Dakota Wizards 1995-96 and became an IBA All-Star. The NBA's Boston Celtics noticed Driggers and signed him to play for part of the 1996-97 season. Played 15 games averaging 8.8 minutes per game off the bench while dropping 2.4 ppg. At tiny Montevallo College in Alabama Nate Driggers stood head and shoulders above all other NAIA performers. The 6-5, 215-pound guard averaged 28.4 points and 10.8 rebounds, holds the school career record for points (2,054) -- shooting just under 60 percent from the field for his career -- ranked second all-time in rebounding (814).
Jerry McNair
6-foot- 2. July 23, 1979 in Berkeley, Calif?father Jerry, mother Michelle?older brother Gary?younger sister Portia?married to Heather Raco Jerry is the cousin of former National Football League standout wide receiver James Lofton.
Career:
Torrance, Calif. (South Torrance HS)
Fullerton College: 15ppg
2000-2001: Washington St. (NCAA): 9.4ppg, 1.7rpg
2001-2002: Washington St. (NCAA): 27 games: 11.6 ppg, 2.1 rpg, 1.0 apg
2002-2003: Washington St. (NCAA): 17 games: 7.8ppg, 1.5rpg, 1.6apg
2004-2005: BG 73 Wolfenbuttel Dukes (GER-2.Bundesliga): left in Nov.'04: 6 games: 22.7ppg, 4.7 rpg, 3.3 apg
Luke Minor
Born: April 17, 1980 7-foot-3 320lbs 2004-2005: NBDL Released in November by Columbus Riverdragons. Milwaukee Bucks Rookie Camp 2003-2004: Si Tanka University (Eagle Butte, South Dakota) 2002-2003: Virginia Tech University 2001-2002: Hagerstown Community College (Hagerstown, Maryland) 2000-2001: University of Southern California. The tallest player ever at USC, Minor's size gave the Trojans a load of untapped potential in the post. Coach Henry Bibby said, "Luke Minor has monster size and is really improving his mobility. He has already improved 200% from high school. 1999-2000: University of Southern California. Minor redshirted as a 2000 freshman center. Had surgery during the season to correct hammer toes, but resumed practice before the end of the year HIGH SCHOOL: Minor averaged 7.7 points, 7.5 rebounds and 3.0 blocks as 1999 senior at Blue Ride Academy in Dyke, Va., leading his team to a 19-6 mark and an appearance in the state semifinals of the Virginia Association of Independent Schools ... He broke the school's season block record with 67 and the career block record with 124 ... Minor was named Virginia's 10th best prospect by the Roanoke Times ... He earned Tri-County second team honors, was the top rebounder in the Prep League Tournament and was named his team's most improved player. In 1998, Minor helped Blue Ridge turn around a 3-13 mark in 1997 to a 20-8 record and an appearance in the state quarterfinals. He attended Trinity Episcopal High in Richmond in 1997 before transferring to Blue Ridge ... Minor attended Faith Baptist in Fredericksburg, Va., in 1996 ... The school had only 49 students and finished 1-13. SIDELIGHTS: Minor was born on April 17, 1980 ... He majored in fine arts with an emphasis on studio art ... He has a strong artistic background and has been drawing (pen and ink) and painting since he was in elementary school ... He also enjoys reading, especially the classics, and lists Ernest Hemingway, F. Scott Fitzgerald and William Shakespeare among his favorite authors ... His full name is Nathaniel Luke Minor?Works out with Tim Grover, Michael Jordan?s trainer.
Willie Murdaugh CBA Regular Season Individual Leaders 2001-2002 Willie Murdaugh 8th in scoring 18.7 ppg Saskatchewan Hawks Defensive Player of the Year Honourable Mention All Star International Basketball Association Dakota Wizards 1996-97..Second Team All Star 1997-98..led league in steals 1997-98 3.1 spg
Fred Nichols, Cal St. Bakersfield 6-foot-3 from Chicago Illinois Blocked 23 blocked shots 12.1 ppg 22-5 record for Cal. Moved up from from the College of the Sequioas in Visalia averaged 18 points 10 rebounds
Kevin Norris University of Miami... 94 grad of Maine Collegiate Institute same school as NBA's Brad Miller 94 and Cuttino Mobley. Part of Men's U.S. Olympic Festival Roster 1995 for the east. Kevin Norris (1994-98) holds the UM record for consecutive starts with 108. Also a member of the Street Basketball Association where he carries nickname "Stink"
Jerrick Oliver The 6-foot-7 native of Riverdale Georgia, Jerrick Oliver graduated from McNeese State Cowboys after a brief college career with the Holmes C.C. in Mississippi. During his two years with McNeese, Oliver averaged 10.4 ppg and 5.4 ppg during the 2003-2004 and 2002-2003 seasons respectively. While playing with a touring college team in China he was noticed by Rockford Lightning?s head coach Chris Daleo who made Oliver a 6th round 45th pick for the CBA Lightning. Oliver was cut earlier this month.
Damian Owens was a Washington first team All Metropolitan High School All Star in 1993-94. The 6-foot-6 forward played for Bowie High School and was a dominant public school player in Prince George's County averaged 25.6 points. Had single-game bests of 43 points and 22 rebounds. Signing with West Virginia University Mountaineers (1995-98) he was the Big East Defensive Player of the Year and first team all-conference in 1997-98. He holds school record for most steals in a season (1998) with 97! Second on all time list with 244 thefts. He is 13th of the school list for most 20+ point games with 22. He is 9th on all time list of field goals made with 647. Also 9th on career rebounds with 868 in 116 university contests. The number nine is pretty popular with Owens as he is also 9th on career assists with 336 dished out. One stat he hopes to forget is No.3 on the turnover parade with 311. Also blocked 96 shots for No.6 on the swat list. You could also rely on Owens to play the entire game with 3,600 minutes on the court for No.8 all time slot. Now remember this is the same school that produced NBA Hall of Fame Jerry West (who is the player silhouetted on the NBA logo) and the flamboyant "Hot" Rod Hundley. From what we can gather he played in the USBL with the Maryland Mustangs and the IBL for the Trenton Shooting Stars plus the CBA Sioux Falls Skyforce and Connecticut. The Trenton Shooting Stars waived Damien Owens to make room on the roster for former Charlotte Hornets forward Terrance Roberson. Not to sure if he was or is the same Damian Owens who was a star player in the Samsung-Philippine Basketball Association.
Full Name: Jai Pradia
Position: Forward
Height/Weight: 6-7 / 225
Birthdate: July 2, 1979
High School: Rayne HS (New Iberia, LA)
College: Pittsburg State
BACKGROUND
Played with the Texas Rim Rockers and Oklahoma Storm in the USBL in the summer of 2003. Appeared in 30 games, averaging 8.6 points and 5.7 rebounds. Ranked fifth in the league in field goal percentage and eighth in blocked shots. Spent the 2002-03 season in Norway, averaging 17.9 points and 9.4 rebounds for the Kristiansand Pirates. Led the league in blocked shots. Played final two seasons of collegiate career at Pittsburg State in Kansas, after starting at Kilgore College in Texas. Finished career as the all-time leading shot blocker in Gorilla history with 110. Started 55 of 57 career games at Pittsburg State. As a senior, averaged 13.4 points and 8.1 rebounds. Started all 27 games. Led team in rebounding and blocked shots, while ranking second in scoring. Scored 27 points and grabbed eight boards at Drury. Registered 24 points against Central Missouri State. Recorded 22 points against Sterling College. Posted a double-double of 14 points and 12 rebounds at Southwest Baptist. Tallied 20 points and 13 rebounds in season-ending loss to Washburn. Earned Honorable Mention All-Conference honors. As a junior, averaged 12.6 points, 6.6 rebounds and 2.0 blocked shots. Started 28 of 30 games. Ranked second on the team in field goal percentage (.537) and set a single-season school record for blocks with 59. Scored in double figures 20 times. Posted five double-doubles, including season-highs of 21 points and 14 rebounds in the first round of the MIAA Tournament against Southwest Baptist. Rejected season-high five shots at Missouri Southern. As a sophomore at Kilgore, averaged 14 points, nine rebounds and four blocked shots.
JAMES PENNY "PLAYER OF THE WEEK" USBL MAY 18 2004
Penny started the week with a 36 point game against Kansas, and followed it up with efforts of 32, 26, and 26 points respectively. Penny also shot 60% from the field as the Oklahoma Storm righted the ship and went 3-1 on the week. Penny has really expanded his level of play for head coach Todd Chambers this season. Penny is currently 4th in the USBL in scoring with a 21.2 average.6-foot-6 ...James Penny (Texas Christian University and USBL Oklahoma Storm, 2004 leagues 6th leading scorer 19.7 and sixth in blocked shots 1.6)
BELOW ARE PLAYERS WHO WERE MENTIONED AT ONE TIME TO HAVE BEEN ON THE DRILLERS ROSTER
Rodney Bass A native of Baltimore, Maryland?Rodney Bass played at Cecil Kirk High School. He played one freshman season at Texas Tech for the Raiders averaging 2.2 ppg in 22 games in 2000-2001. For the 2001-2002 season the Raiders hired the volatile Bobby Knight of Indiana fame. Of Knight taking the team over for the season Bass had this to say in a newspaper article: "This team could get a lot of exposure with him next year," Bass said. "I could play for Coach Knight. My high school and my AAU coaches coached with emotion. The more emotional the coach, the more emotional the team. I can deal with Coach Knight. It won't be a problem." Knight did have a problem though for one week after being hired he kicked starter Jamal Brown and freshman reserves Brannon Hayes and Rodney Bass off the team. Bass would then attend Mountain State University where in 2003 he was indefinitely suspended and faced federal drug charge for marijuana distribution along with two teammates. Bass averaged nearly five points and two rebounds per game in 2002-03.
Galen Robinson is a 30 year-old 6-foot-8 power forward who has globetrotted all over the world as a professional basketball player. After four stellar seasons with the University of Houston (1994-1998) where in his final two seasons he averaged 17.8ppg, 9rpg and 13.8ppg, 8rpg respectively, Galen has played in Poland (Trefl Sopot), Venezuela (Cocodrilos de Caracas where in 10 games he averaged a commanding 20ppg, 8.4rpg and 1.2apg) Philippines (Pop Cola where once again he had double double 20 ppg 10 rpg) Turkey (Ulker Istanbul), Columbia (Paisas 22.9 ppg 9 rpg), Brazil (Ceta Bira, SE Baneirante, Sport Club Ubra) and in the USA with the IBL Trenton Shooting Stars, Richmond Rhythm and San Diego Stingrays along with the ABA Tampa Bay Thunder Dawgs, USBL Tampa Bay Windjammers and also this past summer with the New Balance Pro Basketball Combine. Believe it or not he has also played for the Harlem Globetrotters.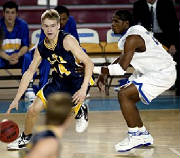 Fred Nichols (right)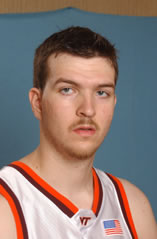 Luke Minor 7-foot-3