| | |
| --- | --- |
| Todd MacCulloch | 11 | |
BACKGROUND




2002-2003:

Fourth NBA season (Philadelphia)...Placed on the injured list on Feb. 19 with left/right foot neuropathy...consulted with Dr. Robert Brown at Mass General Hospital on Feb. 24, 2003...Dr. Brown also believes that MacCulloch is suffering from symptoms of Charcot-Marie-Tooth (CMT)...MacCulloch continues to undergo treatment for his symptoms...CMT is a neurological disorder affecting the peripheral nerves....underwent treatment for Chronic Inflammatory Demyelinating Polyradiculo-neuropathy (CIDP) on Jan. 15 and missed three games (1/15 versus New Jersey, 1/17 versus Milwaukee and 1/18 at Washington)...was on the bench versus Boston on Jan. 20 but was a DNP-CD...since returning on Jan. 20, had played in five games (averaging 10.8 minutes, 3.8 points and 3.2 rebounds per game in the span), listed as a DNP-CD in four others and was a DND-left/right foot neuropathy three games ... CIDP is a condition of the peripheral nervous system...averaging 7.1 points and 4.7 rebounds in 19.3 minutes, while shooting a team second-best 51.7 percent from the field...has 32 total blocks, recording a season-high four versus Minnesota (12/18)...had a career-high five steals versus the Clippers (11/6)...grabbed a career-high 14 rebounds vs. Milwaukee (10/30), while recording a double-double with 10 points...chosen for the NBA Community Assist Award for October...in his return to the Sixers' line up, scored 13 points in 16 minutes at Orlando (10/29), nine of those points in the first quarter...acquired from the Nets by the Sixers on Aug. 6, 2002, with Keith Van Horn for Dikembe Mutombo.

2001-2002:
Third NBA season (New Jersey)...in first season as a Net, averaged career-highs of 9.7 points, 6.1 rebounds and 1.44 blocks in 62 games (61 starts)...led the Nets in shooting with 53.1 percent (247-465) from the floor, but did not have enough qualifying attempts to rank in the NBA league leaders...posted eight double-doubles on the season...led the team in rebounding 13 times and blocks 19 times...missed a total of 19 games due to plantar fasciitis in his left foot: was on the Injured List from Feb. 22 to March 20 (15 games) and from April 14 to April 17 (3 games)...did not dress due to the injury versus Golden State on Feb. 19... recorded a DNP-Coach's Decision versus Milwaukee on March 22...Nets had a record of 41-20 when he was in starting lineup...tied a career-high with five blocked shots three times: versus Philadelphia on March 30, versus San Antonio on Jan. 14 and versus Cleveland on Dec. 17...recorded a career-high 13 rebounds and three blocked shots in 31 minutes versus Chicago Nov. 27...scored a career-high 29 points, while grabbing 10 rebounds in 32 minutes versus Seattle on Nov. 8...2002 PLAYOFFS...averaged 6.2 points, 5.0 rebounds and 1.00 blocks in 20 games and starts...scored five points while pulling down a playoff career-high 11 rebounds in Game 3 at Boston (5/25)...tied a playoff career-high with 14 points in Game 1 versus Boston (5/19)...recorded a playoff career-high 14 points and tied a career-high with five blocked shots in Game 1 of the first round versus Charlotte (5/5).

2000-2001:
Led the 76ers, shooting 58.9% from the field (109-185), but did not have enough qualifying attempts to rank in the NBA league leaders. Played in 63 games, averaging 4.1 ppg and 2.7 rpg in 9.5 mpg. Scored a career-high 21 points on 8-10 shooting vs. Chicago on 4/18 in the last game of the regular season. Scored in double figures in seven games. Shot 4-5 from the field vs. L.A. Lakers on 2/14, finishing with eight points, while tying a team-high with seven rebounds. Tallied eight points and seven rebounds in 16 minutes vs. Atlanta on 1/3. Tied his career-high with 13 rebounds at Chicago on 12/16. Had one of his best games of the season against Cleveland on 12/2; scored 14 points, a team-high 11 points in the second quarter and had three blocks to help the Sixers to a 25-4 run. Was placed on the injured list on 11/20 with left ankle tendinitis, and activated on 12/1 after missing a total of five games. Did not play in 14 games due to Coach's Decision.

1999-2000:
MacCulloch played in 56 games as a rookie, making six starts, and stepped in nicely when injuries hit Philadelphia big men Theo Ratliff, Matt Geiger and Tyrone Hill early in the season. He played in 31of the first 34 games but just 25 games after that, sitting out the rest due to coach's decision. Also, after logging double-digit minutes in 20 of the first 34 games, he did not play more than nine minutes in any game the rest of the season. He led the team in field goal percentage at .553 and averaged 3.7 points, 2.6 rebounds and 0.66 blocks in 9.4 minutes per game. Among all NBA rookies, he ranked fourth in blocks, 15th in rebounds and 20th in scoring and would have ranked first in field goal percentage but did not make enough baskets to qualify. He posted career-highs of 16 points, with nine rebounds, at Milwaukee on Nov. 27; grabbed a career-high 13 rebounds, with seven points, against New York on Nov. 30; and five blocks and 31 minutes at Orlando on Nov. 10. He had two double-doubles, in consecutive games - 12 points and 10 rebounds against Seattle on Nov. 8 and 10 points and 12 rebounds at Orlando on Nov. 10. MacCulloch participated in the 2000 Schick Rookie Game on All-Star Saturday in Oakland, scoring four points and grabbing five rebounds. He played sparingly in five of Philadelphia's 10 playoff games, scoring eight points and grabbing nine rebounds in 24 minutes.

COLLEGE:
Canadian-born Todd MacCulloch received Honorable Mention All-America honors as a senior at Washington after leading the nation in field goal percentage for the third year in a row, only the second collegian - Jerry Lucas was the other - to achieve that feat. He was drafted by the Philadelphia 76ers on the second round in 1999, the 47th overall selection. The 7-foot center played in 56 games as a rookie, including six starts, and averaged 3.7 points and 2.6 rebounds in limited action. MacCulloch, an All-Pac Ten First Team selection in both 1998 and 1999, posted a career field goal percentage of .664 in 115 games for Washington, with averages of 15.2 points and 8.5 rebounds per game. After earning a place on the All-Pac 10 Freshman Team in 1995-96, he led nation with field goal marks of .676 as a sophomore, .650 as a junior and .662 as a senior, when he averaged 18.7 points and 11.9 rebounds per game, the latter ranking second in the nation.



PERSONAL




Full name is Todd Caryle MacCulloch
Married to Jana
Majored in speech and hearing science
Lists father as most influential person growing up
Lists favorite food as a slurpy
Enjoys playing volleyball and going to the movies and does movie reviews for a local Philadelphia radio show
Lists favorite city as Seattle
An excellent ice skater
Brother Scott is a private pilot and member of the Canadian National Military Volleyball team
Should Rick Fox play on our National Team?
| | |
| --- | --- |
| Rick Fox | 17 | |
BACKGROUND




A versatile 6-7 swingman who can shoot, pass, and run the floor, Rick Fox showed flashes of stardom during his NBA career and averaged a career-high 15.4 ppg for the Boston Celtics first four years he served as a valuable role player for the Celtics, coming off the bench at off guard or small forward behind the likes of Larry Bird, Reggie Lewis, Dee Brown and Dominique Wilkins. He was Boston's team captain before becoming a free agent and heading for Hollywood, where he was also pursuing an acting career on the side. He signed with the Los Angeles Lakers as a veteran free agent and started in all 82 games in 1997-98 before assuming a reserve role in 1998-99 ...Fox is recognized by his co-starring roles in such shows as HBO's "Oz," and his marriage to actress/singer/model Venessa Williams.

2000-2001:
Averaged 9.6 points, 4.0 rebounds and 3.2 assists in 27.9 minutes ... started 77 games this season, including the last 68 straight ...ranked among league leaders in three-point field goal percentage (.393/30th) ...led the team in assists in three consecutive games (3/38 - 4/1) and averaged 6.7 assists (20) in that period ...recorded season-highs in minutes played (39) and three-point field goal attempts (9) 12/30 at LA Clippers ...handed out a season-high nine assists on two occasions 12/10 vs. Detroit and 12/30 against LA Clippers ...grabbed a season-high 12 rebounds 12/22 at Dallas ...tallied double-digits in scoring in six consecutive games, highlighted by a season-high 22 points 12/25 vs. Portland ...converted 4-of-4 three pointers 12/19 at Miami ...Started each of the Lakers 16 playoff games averaging 9.3 points, 4.9 rebounds and 3.4 assists in 35.5 minutes ...registered postseason-career-highs in rebounds (10) and minutes played (45) 5/6 vs. Sacramento ...tallied a postseason-career-high five steals 4/26 vs. Portland.

1999-2000:
Scored 20 points and snared 8 boards in a 101-93 win over Detroit on 12/12 ...Totaled 18 points (9-12 FG), 5 rebounds, 4 steals and 2 blocks in a 123-101 victory in Dallas on 11/9

1998-1999:
Scored in double-figures in 19 games ...Scored 24 points (11-17 FG, 2-3 3FG) and added 4 assists against the Utah Jazz on 4/17 ...Posted 19 points and 6 rebounds against the Utah Jazz on 4/6 ...Scored his 6,000th career point, registering 14 points and 4 assists, in a 117-104 victory over the Denver Nuggets on 4/5 ...Scored 15 of his 21 points in the 4th quarter, hitting 5-of-5 three-pointers, in a 106-90 win over the Houston Rockets on 2/28 ...Recorded 16 points (6-9 FG, 4-6 3FG), 4 assists and 3 steals in a 115-100 victory over the L.A. Clippers on 2/25 ...Totaled a game-high 20 points, 4 rebounds and 4 assists in a 116-88 victory over the Charlotte Hornets on 2/16

1997-1998:
Posted season-highs of 31 points and 10 rebounds, adding 4 steals and 3 assists, in a 114-105 win over the Toronto Raptors on 3/31 ...Totaled 20 points (7-10 FG), 6 assists and 3 rebounds in a 119-100 victory over the Vancouver Grizzlies on 3/15 ...Recorded 20 points, 6 assists and 3 rebounds in a 121-107 victory over the Portland Trail Blazers on 3/11 ...Registered 22 points, 6 assists, 3 rebounds and 3 steals in a 96-89 victory over the Detroit Pistons on 3/8 ...Posted a game-high 22 points and 4 assists in a 131-92 victory over the Denver Nuggets on 2/19 ...Totaled 14 points, 9 rebounds and 6 assists against the Seattle SuperSonics on 2/13 ...Scored a team-high 25 points (10-15 FG) and added 6 assists in a 112-87 victory over the Chicago Bulls on 2/1 ...Scored a team-high 30 points, adding 9 rebounds and 4 assists, in a 121-114 win over the Minnesota Timberwolves on 1/30 ...Recorded 19 points (8-13 FG), 5 steals, 4 assists and 3 rebounds in a 114-102 victory over the Milwaukee Bucks on 1/7 ...Registered a team-high 27 points, 9 rebounds and 3 assists against the Boston Celtics on 12/28 ...Posted 20 points, 3 assists, 3 steals and 3 blocked shots in a 118-114 overtime win over the L.A. Clippers on 12/26 ...Totaled a game-high 30 points (12-15 FG, 3-4 3FG, 3-3 FT), 7 rebounds and 3 assists in a 119-102 win over the Houston Rockets on 12/12 ...Recorded 22 points (6-10 FG) and 6 rebounds in a 132-97 victory over the Golden State Warriors on 11/9 ...Registered 8 points, 4 assists and 3 rebounds, in his Lakers debut, in a 104-87 victory over the Utah Jazz on 10/31

1996-1997:
Fox had a solid season at both ends of the floor in addition to serving as Boston's team captain. He set a Celtics franchise record with 167 steals, one more than Larry Bird compiled in 1985-86, and his 2.20 steals per game ranked fifth in the NBA ...Offensively, Fox was Boston's third-leading scorer at 15.4 points per game, his 103 three-point field goals and 3.8 assists per game ranked second on the team, and his 5.2 rebounds per game ranked third ...Fox led the Celtics with 75 starts, including the first 73 games of the season. He also came off the bench once and sat out six games, two due to the flu and four due to a sore right heel ...He scored in double figures in 64 of his 76 games, with 20+ points 18 times and 30+ points four times ...He netted a career-high 34 points in a 113-102 loss to New York on March 7, and had 33 points twice, against Portland on Jan. 31 and at Orlando on Feb. 6. He had three games with six steals and three more with five steals ...During December he twice hit game-winning shots at the buzzer, in a 115-113 triple overtime win against Toronto on Dec. 11 and in a 104-102 victory at Denver on Dec. 30 ...On July 7, Fox was one of nine players whose rights were renounced by the Celtics so they could clear salary cap room in order to sign center Travis Knight as a veteran free agent

1995-1996:
Fox provided one of the bright spots for the Celtics in 1995-96, finishing as the team's No. 2 scorer with a career-high 14.0 points per game ...He also was second on the team in assists at 4.6 per game, grabbed a very respectable 5.6 rebounds per game and topped Boston with 1.40 steals per game ...Toss in 99 three-point field goals, more than the 91 he had in his first four NBA seasons combined, and it was a solid season for the Canadian-born swingman ...Fox started 81 games for the Celtics, by far the most of any team member, missing only a game on March 17 due to a death in the family ... He scored 20 points or more 15 times and had nine double-doubles ...He matched his career high with 33 points in a 131-123 loss to New Jersey on Dec. 1, a game in which he also had 10 rebounds and seven assists ...He grabbed a career-high 16 rebounds to go along with 13 points and eight assists in a 93-77 win over the Cleveland Cavaliers on Jan. 5 ...Fox also came close to a triple-double on Jan. 21 when he had 20 points, 10 rebounds and eight assists in a 97-95 loss to Toronto on Jan. 21 ... He handed out 10 assists to match his career high on Jan. 24 against the Lakers and he tossed in six three-pointers, also matching his career best, against Seattle on March 1 ...He finished the season strong, getting 61 points and 27 rebounds in Boston's final three games ...Against Denver on March 22, he tossed the ball in-bounds off the rim with :00.4 to play ... . The carom was grabbed by teammate Greg Minor whose basket gave Boston a 99-98 victory

1994-1995:
The arrival of Dominique Wilkins with the Boston Celtics meant that Fox could expect to see most of his playing time as a reserve ... Although he enjoyed a flurry of solid play during the first half of the 1994-95 campaign, injuries prevented him from repeating his performance of the season before ... In the fifth game of the season he led the team in scoring with 18 points ...One week later, on November 22, he paced the club with 16 points ...He moved into the starting lineup the next night to fill in for the injured Wilkins, and in three consecutive starts he averaged 14.3 points, 6.7 rebounds, and 6.0 assists ...Overall, Fox appeared in 53 games and started 7 ... He averaged 8.8 points, 2.9 rebounds, and 2.6 assists in 19.6 minutes per game ...A bruised bone in his right foot kept him out of six games in February ...He played his last game of the season on March 12, missing the remainder of the campaign with bone spurs in his ankles ...On April 4 he underwent surgery to repair the ankles ...He was not on the postseason roster as the Celtics fell in four games to the Orlando Magic in the first round of the playoffs

1993-1994:
Fox scored 10.8 points per game for one of the NBA s most balanced teams in 1993-94 ...A total of seven Celtics averaged in double figures on the year ...In playing twice as many minutes as he had the season before, Fox was finally able to settle into a groove on the court ...With additional playing time and confidence, nearly all of the swingman s offensive numbers increased ...As a testament to his improvement, he scored a career-high 33 points against the Milwaukee Bucks on March 29, sinking 17 of 18 free throws.

1992-1993 :
Fox saw decreased playing time in his second NBA season, and his production tailed off commensurately ...He averaged 6.4 points and 2.2 rebounds in 71 games, and his minutes dropped from 1,535 as a rookie to 1,082 this season ...However, Fox finished the season with some of his best play ...He was 46-of-77 (.597) from the floor in his last 20 outings ...He scored 14 points in 24 minutes against the Orlando Magic on April 21, and he had 17 points in 21 minutes against Cleveland on April 23 ...Fox saw action in all four Celtics playoff games, contributing 4.3 points and 4.8 rebounds per game. Boston lost its first-round series to the Charlotte Hornets in four games

1991-1992:
Fox was named to the NBA All-Rookie Second Team after averaging 8.0 points and 2.7 rebounds in his first season ...He played in 81 games, often filling in for Larry Bird, whose injuries limited him to 45 games in his final NBA campaign ...Fittingly, Fox became the first Celtics rookie to start on opening night since Bird in 1979 ...On November 30 Fox scored a season-high 31 points against the Atlanta Hawks ...He grabbed a season-high 9 rebounds on January 19 against the San Antonio Spurs ...Fox averaged 3.6 points in eight playoff appearances as the Celtics beat the Indiana Pacers in the first round before losing a second-round series to the Cleveland Cavaliers in seven games.

COLLEGE:
Another well-rounded product of the Dean Smith school of basketball, Fox was drafted by the Celtics in the first round of the 1991 NBA Draft ...A native of Toronto, Fox grew up in the Bahamas and then went to high school in Warsaw, Indiana ...He attended college at North Carolina, teaming with a host of future NBA players and leading the Tar Heels to the 1991 NCAA Final Four ...He departed UNC as the Tar Heels all-time leader in steals with 197 ...In four seasons at UNC, Fox never missed a game, tying a school record with 140 appearances overall.



PERSONAL




Full name is Ulrich Alexander Fox
Moved from Canada to the Bahamas, with his parents, at the age of two
He and his wife, actress Vanessa Williams, celebrated the birth of their daughter on May 1, 2000
Lists his heroes as his parents and his high school and college basketball coaches
Served an internship at Mickey Mantle's restaurant during the summer of 1997 and would like to open a sports bar when his playing days are over
Enjoys martial arts, golfing, watching "ESPN SportsCenter" and rooting for the New England Patriots
Majored in Radio, Television and Motion Pictures at North Carolina and says he would be in the movies if he were not playing in the NBA
Has a cameo appearance in the movie "He Got Game" and a recurring role in the HBO drama Oz
Celtic Days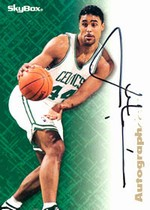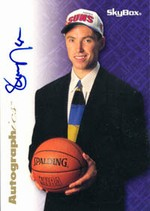 A young looking Nash